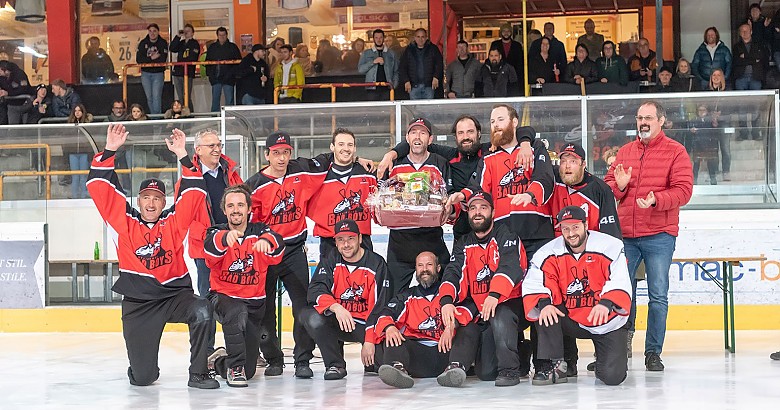 We are runner-ups in Italian Championship
The Bad Boys finish the season runner-ups to the Italian Championship title. The 2018/19 final for the championship in Italian Broomball took place on Saturday, March 23, 2019 before an impressive backdrop (over 250 spectators) in our home arena of Bruneck.
We painfully missed our injured players (Daniel and Harry)!
The game against our longtime-opponents, the Sharks (their 9th final presence in a row), started vividly. We had 1-2 chances to take the lead but unfortunately we could not score. We sure will be thinking back for a long time to the five-minute powerplay at the beginning of the game...
Similar to the last clash with the Sharks we fall behind at the end of our power play, as a deflected shot found its way into our goal. Then our opponent takes control of the game in usual fashion.

We are struggling to generate opportunities and, time after time, our opponents could defuse our attacks.
In period two the Sharks scored the second goal, after two uncleared rebounds. We pressed for the goal and were able to build up a lot of pressure especially at the end of the game - but without any countable success!
At this point, congratulations to the old and new champions.

We have the best team result ever to look back at - a huge compliment to our team! We've done a great job developing this year and refining our game system, finishing second place in the pick round as well.